Unique refill ink kit for Brother LC201, LC203 cartridges.
Comes with ink reservoirs, refill adapters, chip resetter - Free shipping
12 ink tanks( up to 24 refills). 
Note: refill original Brother cartridges only.
Brother MFC-J680DW MFC-J880DW MFC-J885DW MFC-J4320DW MFC-J4420DW MFC-J460DW MFC-J4620DW MFC-J480DW MFC-J485DW MFC-J5520DW MFC-J5620DW MFC-J5720DW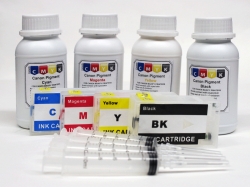 Set of 4 Refillable Canon Maxify Replacement Cartridges. PGI-1200XL Black,PGI-1200XL Cyan,PGI-1200XL Magenta, PGI-1200XL Yellow with 800ml lnk. .
Refillable cartridges T601,T602,T603,T604 with  400ml sublimation ink Black sublimation ink 100ml Cyan sublimation ink 100ml Magenta sublimation ink 100ml Yellow sublimation ink 100ml For Epson C88, C88+ printers
Generic Ricoh Dye Sublimation Black Cartridge 40ml - Sawgrass Compatible. Vavid Colour, Excellent Digital Colour Profile.
Generic Ricoh Dye Sublimation Ink - Sawgrass Compatible. Value Pack C/M/Y/K.
Refillable Epson R3000 Cartridges with 100mlx9 bottles of UlraChrome K3 Compatible Ink.
Refillable cartridges 6 pack for Epson 1400,1430 with auto reset chips. Ideal for sublimation work - cartridges come empty - sublimation ink available.
CMYK(Canada) Dye Sub Refillable Kit- Free Shipping! Comes with 4 refillable cartridges , 800ml Sawgrass compatible sublimation ink(200mlx4 bottles). 6 to 7 refills for each color. Work with Ricoh Aficio SG2100 SG2010L SG3100 SG3110DN SG3110DNW SG7100